CNC sheet die cutting
Make use of 3D machining and laser cutting to produce scratch-free sheets.
---
Die cutting with 3D machining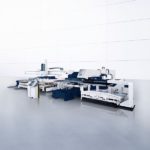 This die cutting technology makes it possible for complex three-dimension sheet working with aim at executing all machining operation on a single machine.
We use the premium quality flexible machine TruPunch for the die cutting proces. It great for multilateral forming and the output of its operation are high quality parts of machined sheets free of any scratches.
| | |
| --- | --- |
| Machine | TruPunch 5000 |
| Maximum sheet thickness | 6 mm |
| Maximum plastic thickness | 8 mm |
| Maximum dimension | 2500 x 1250 mm |
| Perforation rate | up to 1600 zdvihů/min. |
---
Die and laser cutting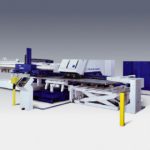 This combined technology takes advantage of both machining operation types on a single machine. Standard contours and forming can be achieved using punching heads, complex contours will be cut by laser.
We operate the TruMatic machine the advantage of which includes very precious CO2 laser beam. Thanks to robust machine concept, our product contours are highly precise.
| | |
| --- | --- |
| Machine | TruMatic 6000 |
| Co2 laser | TruFlow |
| Max. steel thickness |  0,5–4 mm |
| Max. aluminium thickness |   0,5–4 mm |
| Max. stainless steel thickness |   0,5–3 mm |
| Maximum dimensions |  3000 x 1500 mm |
Finish: The die cut technology allows for the use of all finishing operation types. Read more »
Quality guarantee
We make use of forming machine standards.
Wecalibrate machines before we start producing.
We grind and service out machines on regular basis.
Production deadlines
We will produce cut parts of standard materials for you in 5 business days for you.
Source materials for the production have to be delivered in formats DXF, DWG or STEP. Do you need advice? We will prepare the design for you using the Solid EDGE software.
Production inquiry
We will prepare an individually tailored price quotation for you.
Contact person: Michal Pazour, pazour@kovo-klobas.cz, +420 724 117 922.